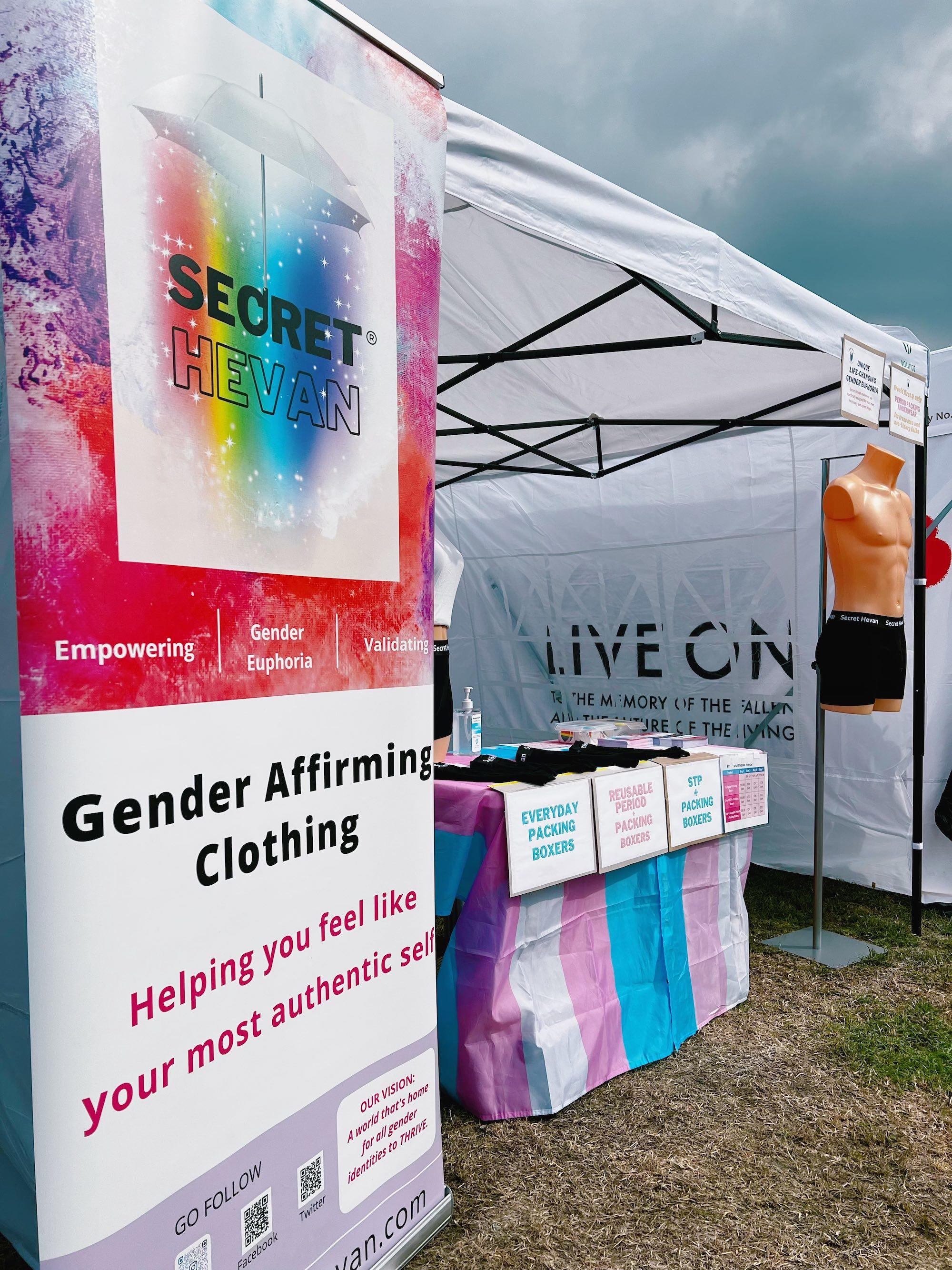 WHAT AN AMAZING EVENT! We had another huge success at Reading Pride yesterday after London Pride in July. One of the best parts of the event was meeting so many lovely people, both LGBTQ folks and cis allies - I can't help smiling every time I flick through those photos from Saturday. Thank you for stopping by and for those wonderful memories! Below are some photos from the event that I thought to share with you.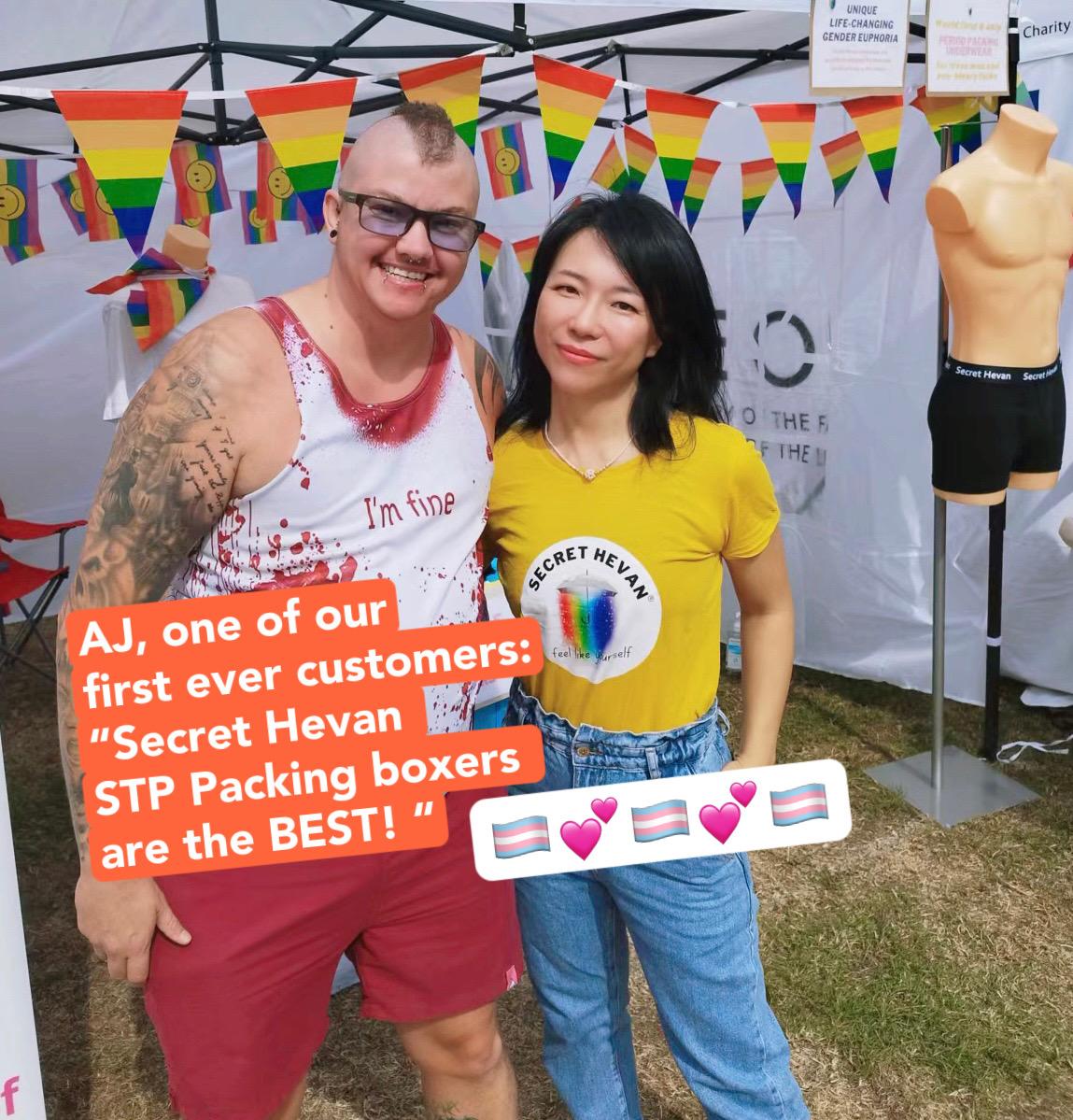 One of my first ever customers AJ came to see us. Saw him the first time, but it felt like an old friend! Thank you for coming to tell us in person that Secret Hevan STP boxers are the best in the market, AJ! So glad we have got it right.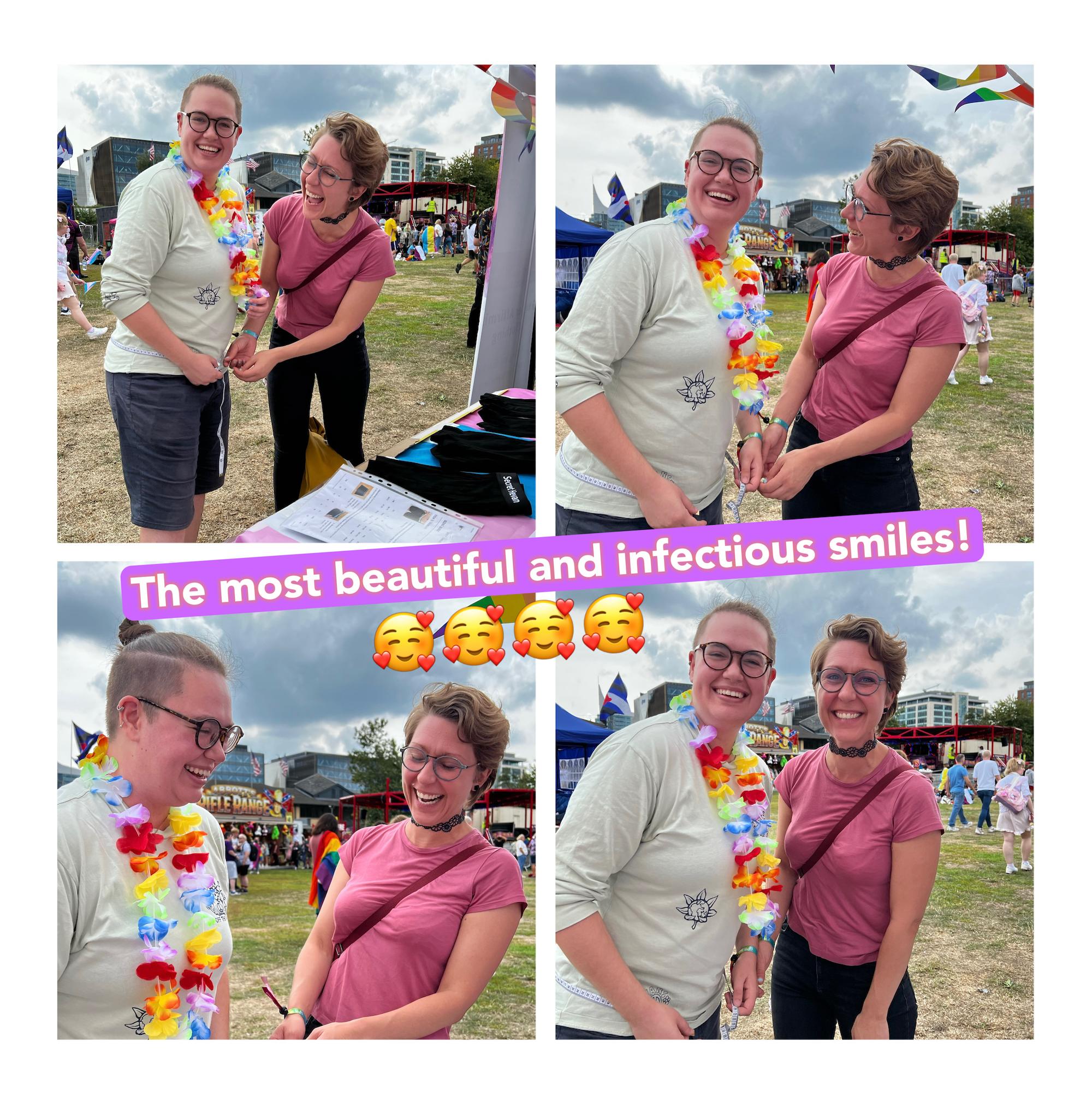 Ah, those giant careless smiles! Too infectious! If I remember correctly, I picked the best moment - when they were just taking measurements - to ask this question "Can I have a photo of you? " "Sure, how would you like it? Me measuring like this or…this?" We all laughed! What a joyful moment!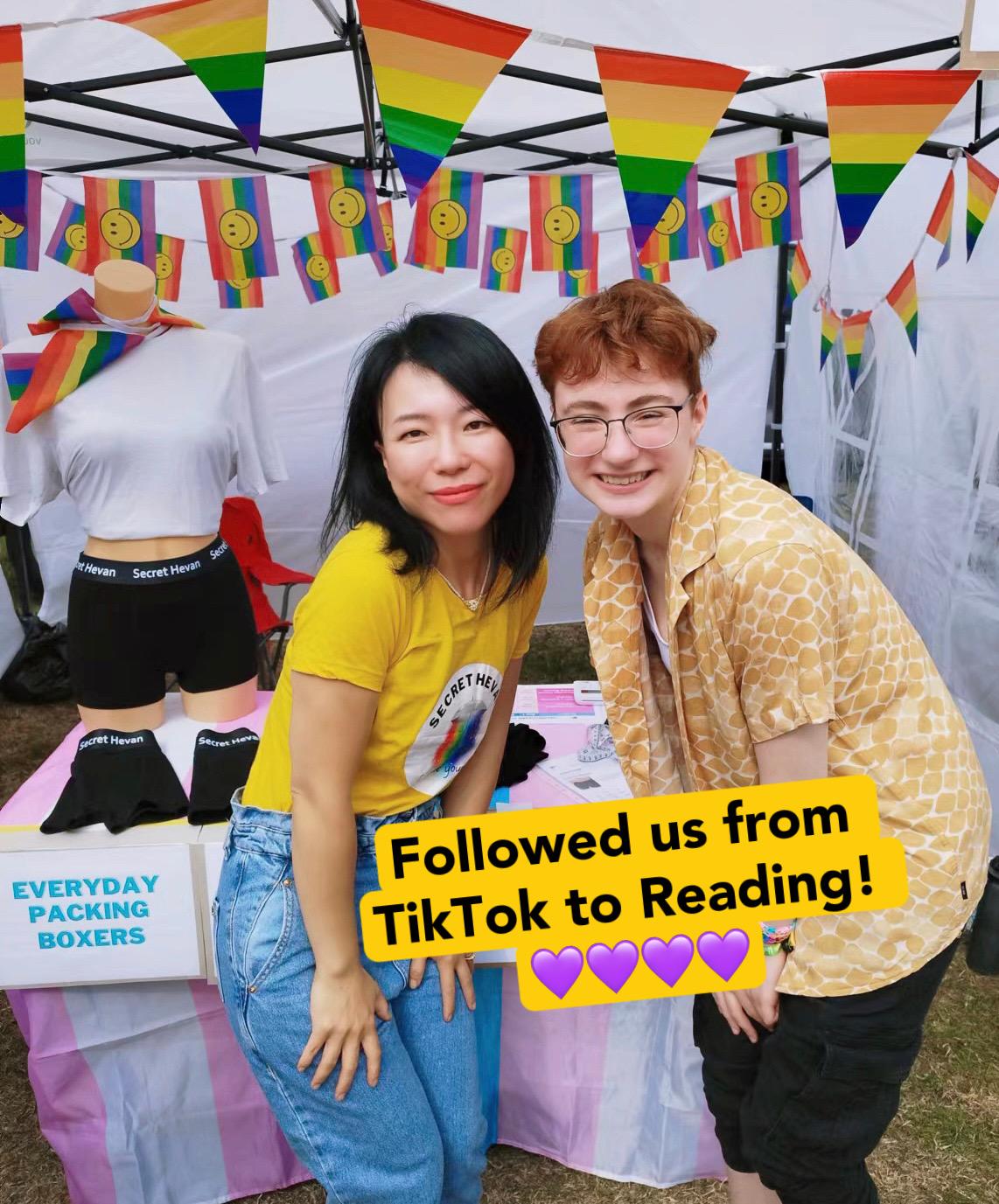 From TikTok to Reading Pride, they really came! I thought it might be you two talking excitedly on TikTok "THEY ARE COMING TO READING PRIDE!" I was just as excited to see you too!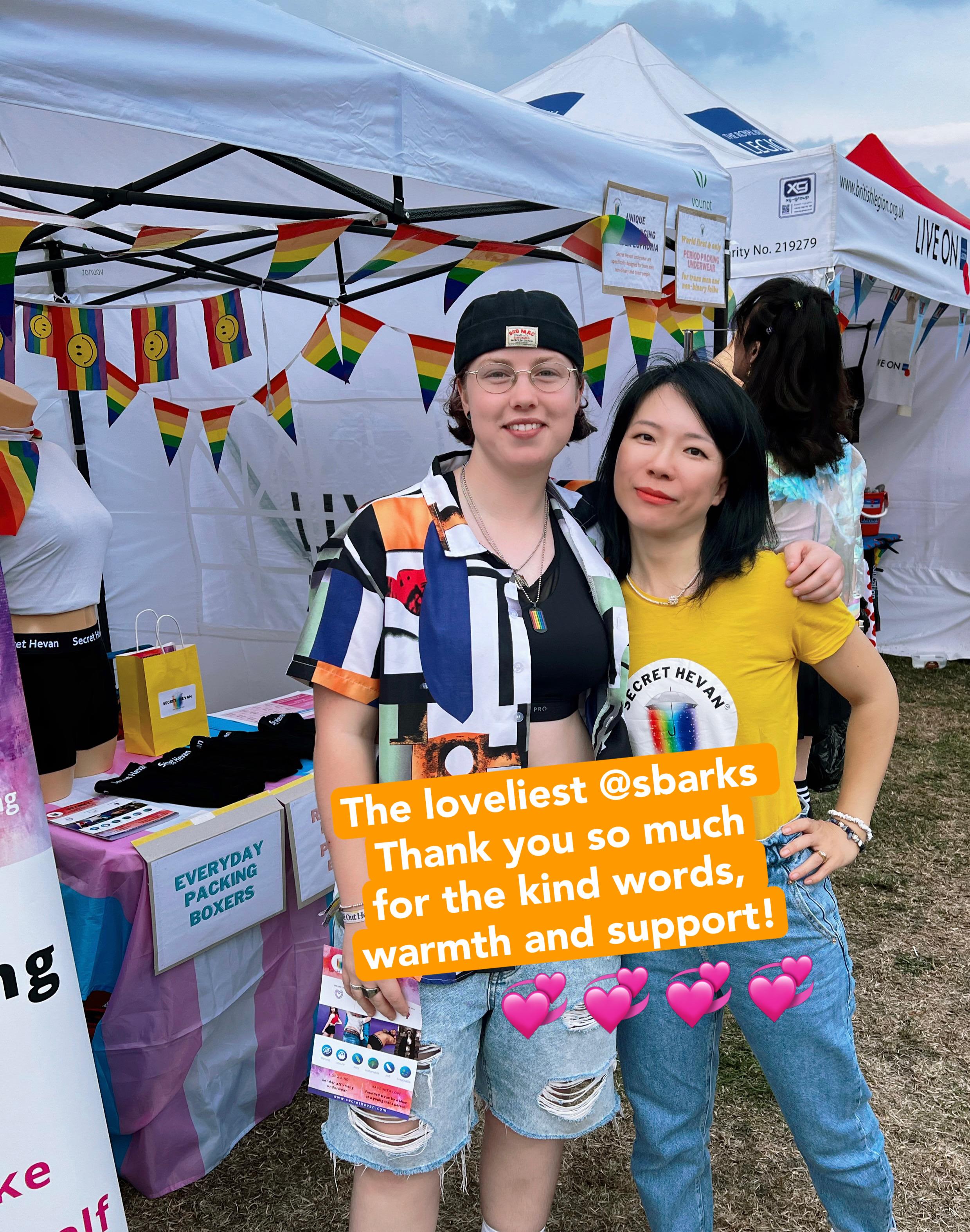 Fellow exhibitor Sophie heard about us from other visitors and came around to say hi. It was so lovely to meet you and your business partner, the other Sophie. : )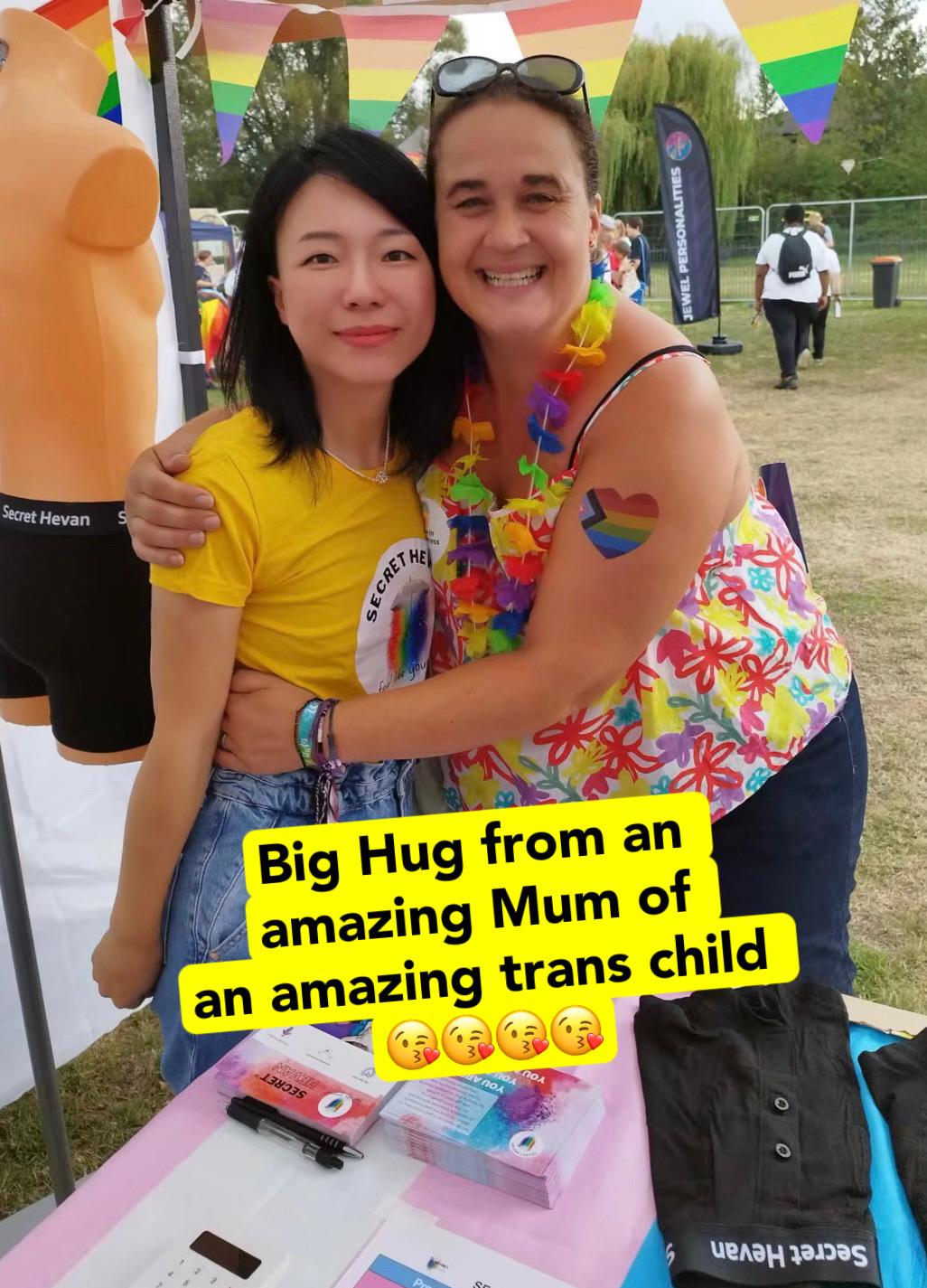 Another proud mum of a transgender child came back to my stall for a photo. We have so much in common and it feels like we could talk about our amazing kids forever! Thank you for being such a loving mum to your kid and a supportive ally to the community!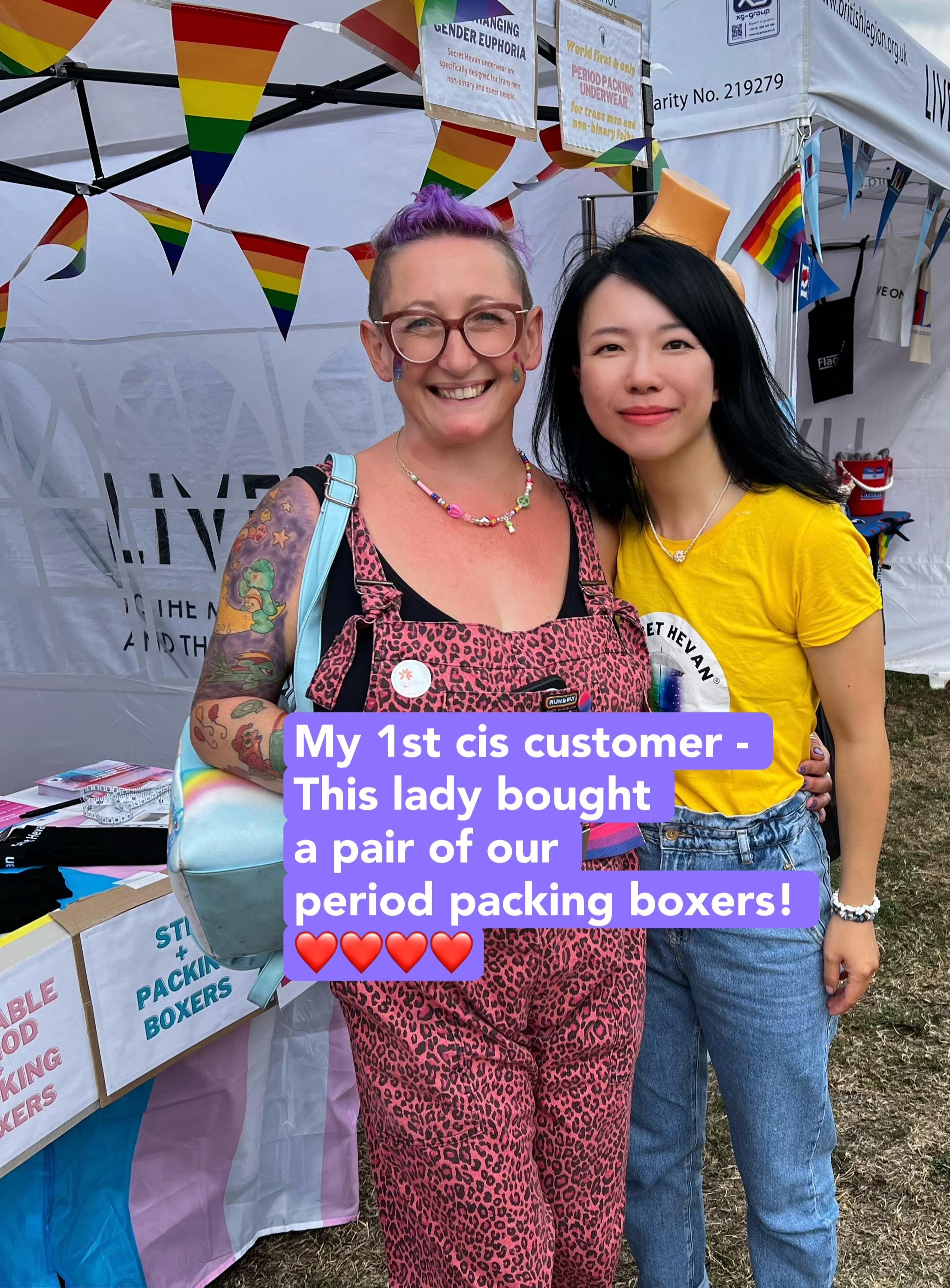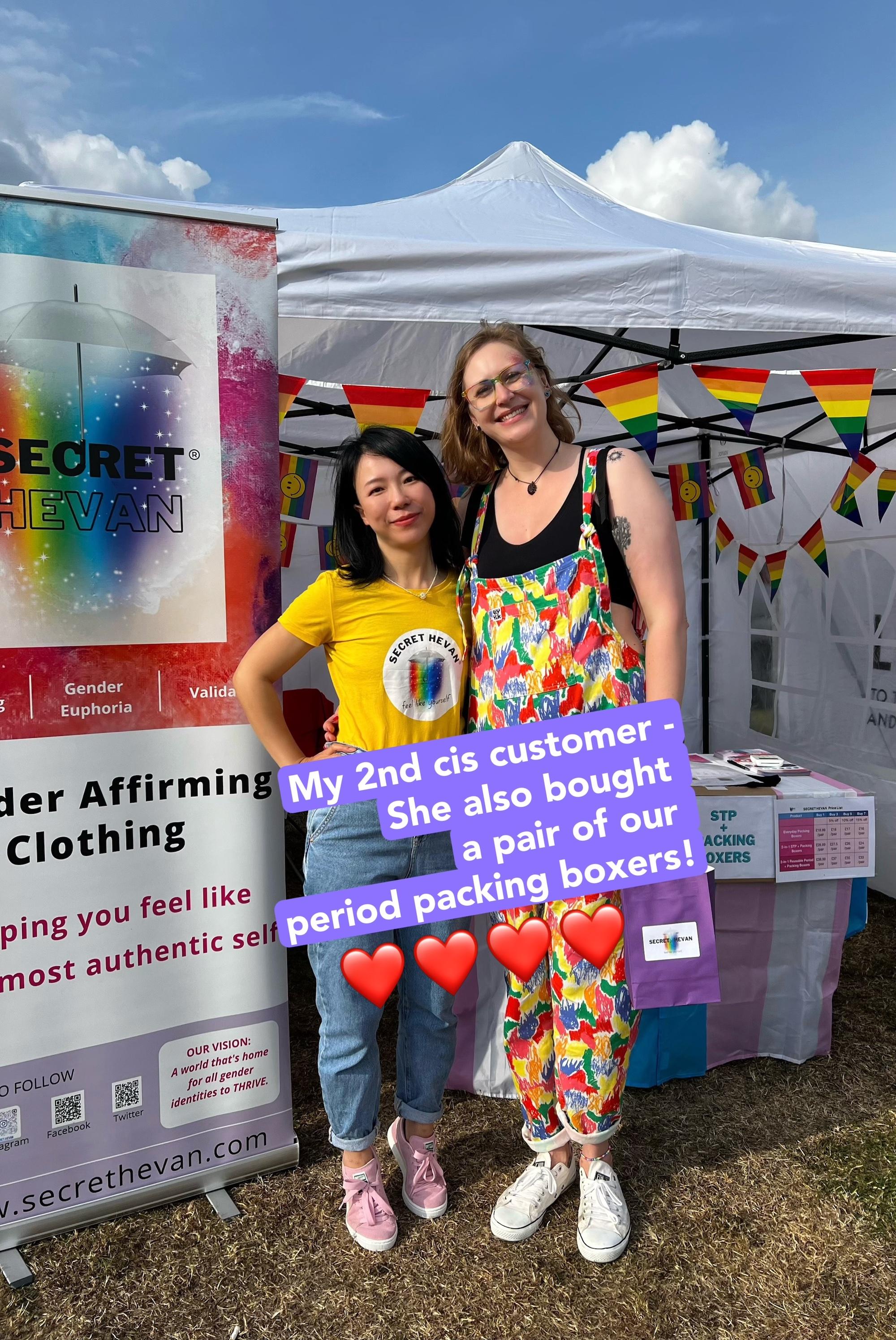 I must say I didn't see this coming - I had two cis women customers buying our Period Packing boxers!!! They didn't need the packing function obviously, but they thought my period boxers were so well made, felt so much more comfortable than those designed for women in the market, and still looked great without a packer inside, they each bought a pair from me! By the way, they didn't know each other, but happened to stop by at my stall one after another. It was unexpected in a good way!
So, all the cis women out there, if you are also looking for a pair of great quality, super soft period underwear to get comfortable in on those days of month (we do XS - 3XL), please get in touch! "Those boxers are perfect for wearing around the house with a T-shirt on, light, soft and stretchy for those bloated days!" One of them said. I might just steal her comment for a poster!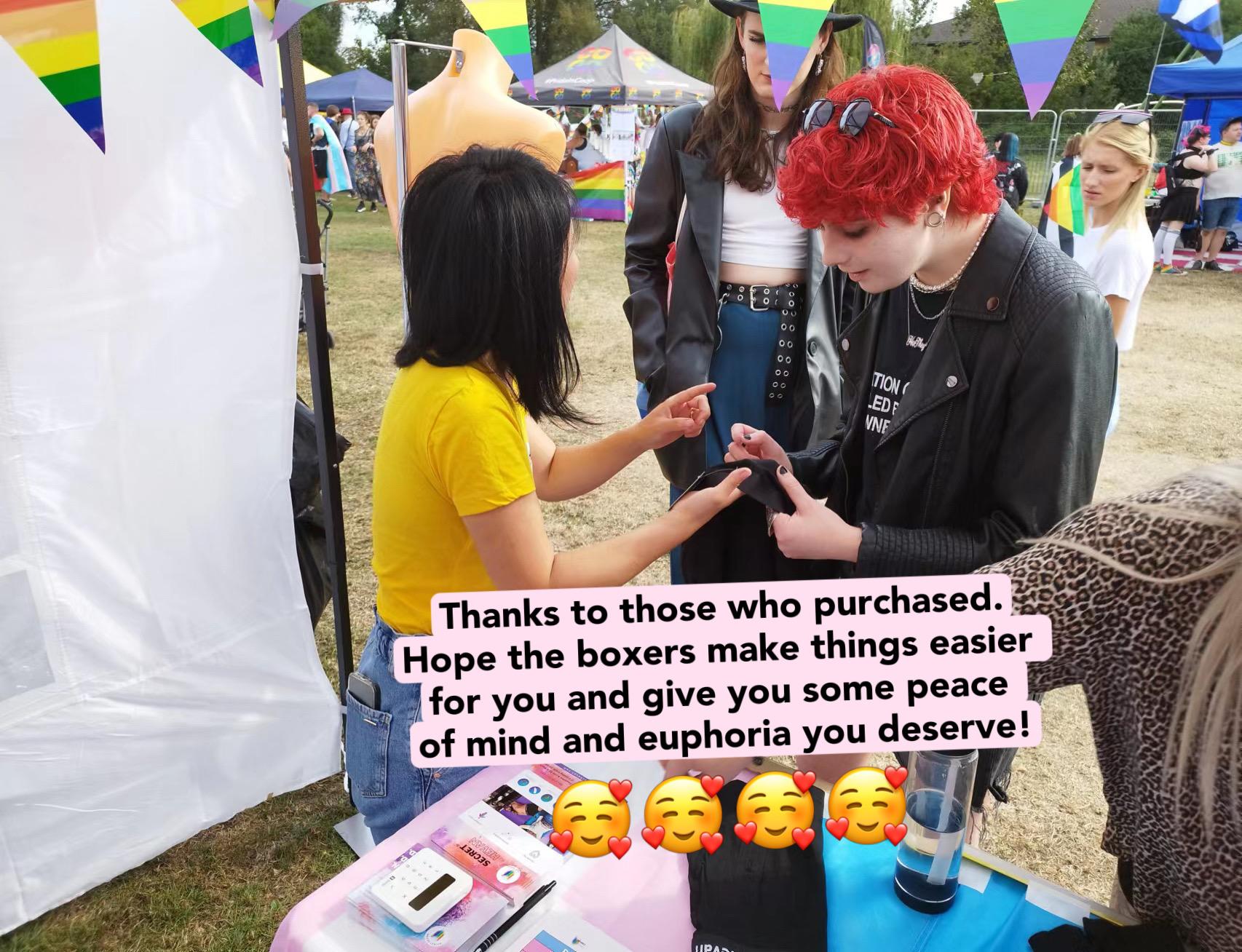 One of the things I enjoyed the most - visitors are walking along, casually browsing; their eyes glance over my stall, they keep walking except they make a sudden stop to have a second look, with an amazed expression on their face, followed by a question "How do these work?" or an exclaim "My god, I have been looking for those for ages!" It was a great pleasure to show you all our boxers and I really do hope they make a difference to you and help make you feel seen and empowered to be your true self.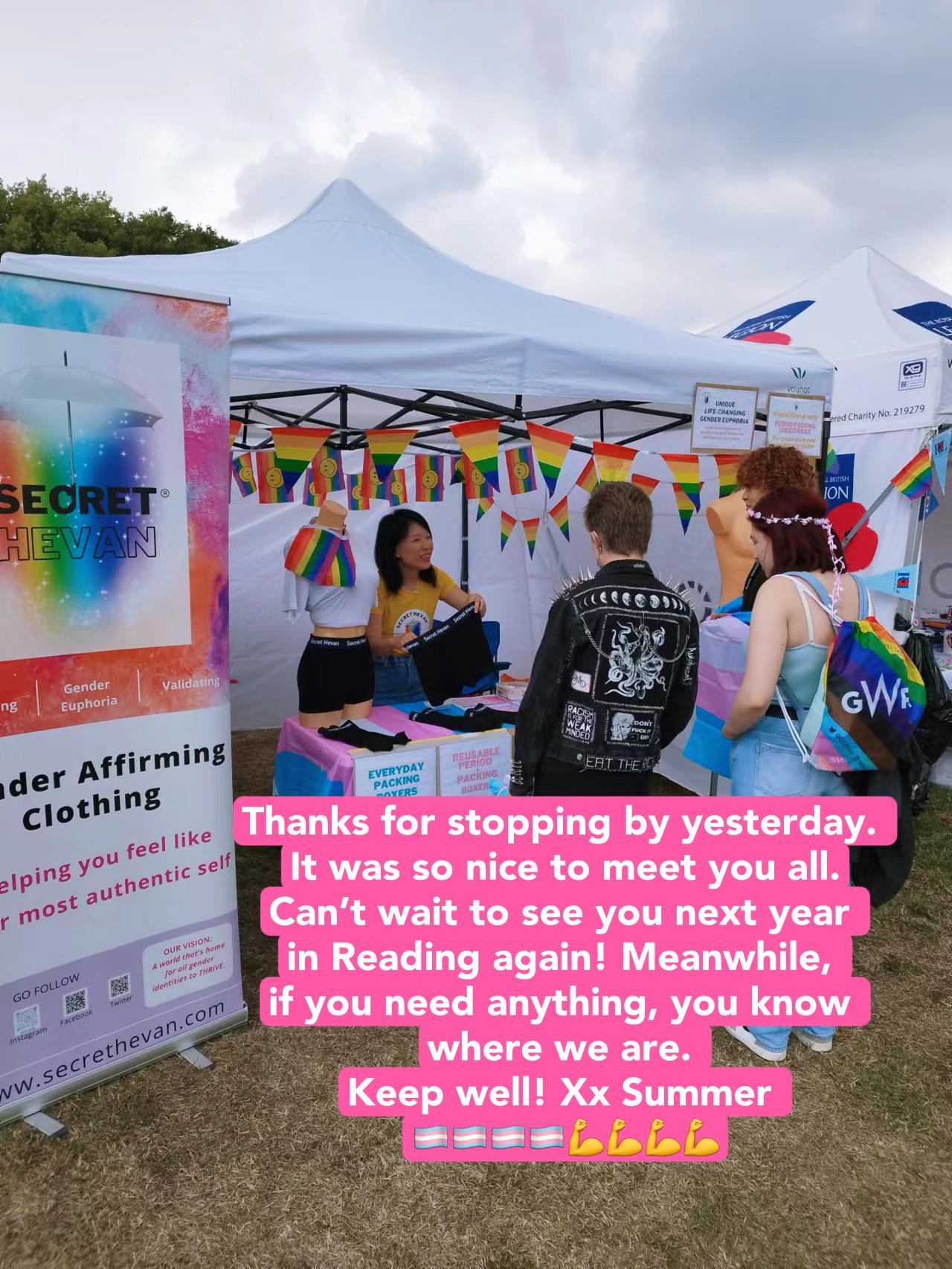 Thanks Reading Pride for organising it. We will most definitely be there next year and can't wait to see you all again!
Lots of love
Summer
Secret Hevan Founder